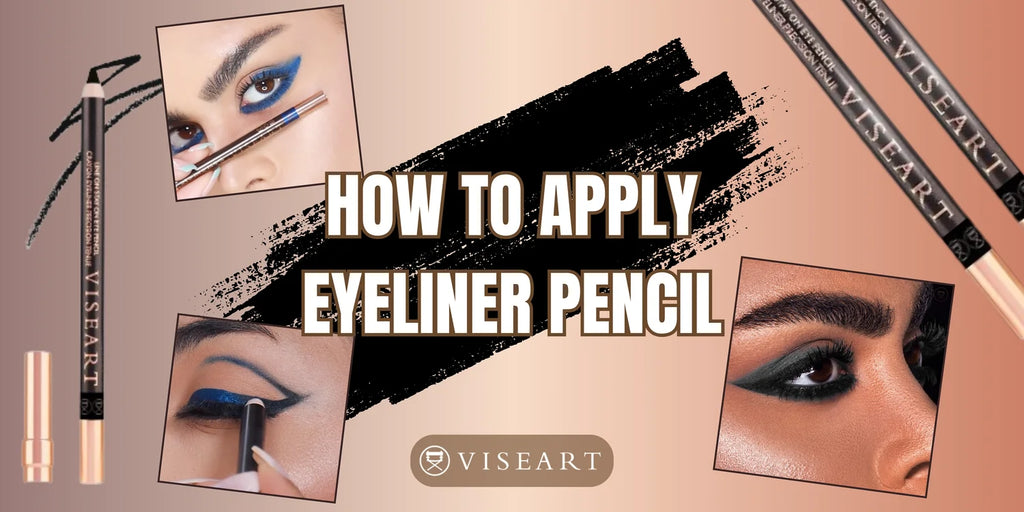 How To Apply Eyeliner Pencil
Makeup is an art that instantly uplifts your confidence and gives you a glamorous look that you can flaunt. Whether it is a regular day at work or you want to rock the festive look, a simple touch of makeup can change the vibe of your entire look. While there are many things in makeup, applying pencil eyeliner is the most creative thing you can learn. From ancient times, we have seen women express themselves through their eyes and have been using handmade kohl sticks to enhance the mesmerizing look of their eyes. But with growing times, the makeup industry has advanced to create better, long-lasting products. To replace the kohl, professionals use eye pencils in different shades to add a pop of color to your expressive eyes.  
From actresses speaking with their eyes to you who want to create a mark in any function, pencil eyeliner plays a crucial role. Whether you go for a smudge free eyeliner or want a shimmer eyeliner look, it requires a lot of practice and precision to get the perfect stroke in one go. While it is not limited to a single stroke on your eye line, using a waterproof eyeliner pencil can help you explore different ways to let your eyes do the magic.
Pencil eyeliner is the perfect addition to your makeup arsenal, allowing you to go out of the box and create stunning looks. The pigments of eye pencils add to the perfect amount of drama needed for your eyes to flaunt. Applying different techniques and styles allows you to create new looks every day. For a newbie, using a pencil eyeliner can be a savior. It's time you say goodbye to shaky hands while applying eyeliner with this simple guide on "How to Apply Eyeliner Pencil."
What Is Pencil Eyeliner?
A pencil eyeliner is the magic wand for your eyes. It's an easy-to-use stick with different color pigments to accentuate your eyes and make them look bold and beautiful. Eyeliner, applied on your eyelids, lower lash, and waterline, completes the look of your eyes. We have seen people using waterproof kajal for ages, and this eyeliner pencil is just the advanced and improved version of our kohl kajal sticks. From going subtle to creating smokey eyes, pigmented pencils can help you achieve professional looks without any fuzz and fear of messing with your makeup. While you rock the black eyeliner, the waterproof eyeliner pencil comes in different colors, allowing you to play with colors.
How to Apply an Eyeliner Pencil?
Guide to Apply Pencil Eyeliner on Upper Lash
Pick the Look You Want to Create
The best eye pencil is the one that allows you to go crazy with its pigment and colors. It's never too late to try different looks using various color options in eyeliner. Always start by planning the eye look based on your outfit and occasion. Then, shift to pick the colors you want to play with and start to create the perfect bold eyes that do the talking. While black adds drama, colorful pencil for eyes adds freshness to any dull and boring day.
Prep Your Eyes and Do the Makeup
Do you also feel your eyeliner does not last the whole day? A simple prep can make your pencil eyeliner stay all day without smudging. Always use an eye primer before rocking any look for a day full of charming eyes. Once the primer is dry, start with the makeup look you want using the eyeshadow. Go shimmer or matte based on the outfit and the look you want to flaunt.
Apply Long Lasting Eyeliner 
For the fun part that will add ambiance to your look, apply pencil eyeliner from the center of your eyelid. Close to the eye line, go towards the outer side in small dashes and create the shape you want using the sharp tip. Hold and stretch your upper eyelid to get a crease-free base for a smooth and clean look. Use the pointed tip for thin lines and the whole tip for a thicker look. Fill the dotted lines, repeat the same process from the inner corners, and join them to create perfect eyeliner. Apply mascara once the eyeliner is done, and you are good to go.
Guide to Apply Pencil Eyeliner on Lower Lash
Start with Cleaning
While you do the upper eyelid makeup, some makeup products fall around and mess up your lower eyelid. So, always start by cleaning your lower lash line. Remove all the fallout using a wet cotton swab. Just wipe to get a clean lower lash and proceed for further steps.
Do the Makeup
The eye makeup is incomplete until your lower lash matches the upper eyelid. Use the same shades to create a complete look. Apply highlighter on the inner corners to make your eyes look brighter.
Apply the Smudge Proof Eyeliner
Once the eye makeup is complete, it's time to rock the eyeliner look. Either go black or use colorful pencil eyeliner to create magnificent eyes. Use the eye pencil and apply from the center of your lower lash, going towards the outer corners in a dotted line. After the outline, return to the inner corner and create a single stroke outward. This ensures that your eyeliner is even, and your eyes look beautiful. You can skip the inner corner of your eyes and create a trending makeup look.
Guide to Apply Pencil Eyeliner on Waterline
Find the Waterline
Do you also get confused between the lower lash and the waterline? Your waterline is the skin between your lid and eye. Using pencil eyeliners can do wonders for people with small eyes and hooded eyelids. It makes your eyes look bigger and adds focus. To find the waterline, use your ring finger and gently pull your lower lid. This will allow you to access your waterline.  
Apply Waterproof Eyeliner Pencil
The waterline is sensitive, so carefully using eyeliner is most important. The tightlining method is best for getting the perfect eyeliner look for the waterline. Gently pull your eyelid down and then towards the outer side. This allows you to apply eyeliner without any obstruction. Now, angle the pencil eyeliner so that the tip doesn't hurt. Now, create a stroke from the inner corner towards the outer side. You can easily rock your eyes with simple eyeliner when in no mood for makeup.
Tips for Using an Eyeliner Pencil
Keep It Sharp 
Whenever using eye pencil eyeliner, ensure that the tip is sharp. A blunt tip will not give you precision and mess up your sleek lines. Start with a sharp pencil to draw smooth lines with the exact thickness you need. Use a sharpener available in different sizes to get the perfect tip every time you use your pencil eyeliner.
Taut Your Eyes
Your eyelids have folds, making it difficult to use eye pencil smoothly. Taut your eyes to create sleek lines that are perfect. Lift your skin with a finger and apply your eyeliner. Taut for both upper lash, lower lash, and waterline.
Smudge For Smokey Eyes
Are you missing out on eyeshadow? Pencil eyeliner works as a great substitute for instant smokey eyes. Apply the eyeliner on the upper lash and smudge the liner using an eyeshadow brush. Ensure to do it immediately, or else the liner won't smudge. Always prime your eyes before creating the smokey eyes look.
Go Colorful
A dash of color can never go wrong. Know the color wheel and play with different eye pencil colors to create unique looks. You can even combine different colors to make your eyes appear elegant and magnificent. Add a dash of black eyeliner on your waterline, and you are ready.
Never Forget Waterline
We often think pencil eyeliner is for your upper lash. A simple stroke on your waterline can uplift the entire look and create a mood for your outfit. It makes your eyes look big and mesmerized. You can even try using nude or white eye pencils for eyes to create a unique look. This makes your eyes look bigger and allows the colors to speak louder.
Use the Dot and Dash Method
Use the dot and dash method if you fear messing up your eyeliner. It can never go wrong. Use the eye pencil and create dotted lines on both eyes to get matching eyeliner and thickness. Then, stroke around the dots and dash before filling the dots.
Set Your Eyeliner
Do you fear messing with your eyeliner? Two simple steps can allow your eyeliner to stay all day without smudging. First, always prime your eyes. Second, once the waterproof eyeliner pencil dries, use the same shade from the eyeshadow palette to set your eyeliner. This will allow the liner to stay intact and look vibrant.
Use Cotton Swab to Fix Any Mistakes
Mistakes are common, which shouldn't stop you from going crazy while doing makeup. Correcting mistakes is easy. Using a wet cotton swab, correct your mistake. Layer it with a concealer of your shade and restart applying the eye pencil. There, you have the perfect eyeliner to rock your event.
Why Choose Viseart Pencil Eyeliner
Getting a sassy and glamorous look is easily possible with a simple touch of eyeliner on your eyes. The eyes have the beauty to express with gestures, and using the pencil eyeliner adds to the expression. It allows your eyes to do the talking. Whether you are a professional in the world of glamour or a complete newbie, the simple eye pencil can help you go a long way to explore your creativity and flaunt in style. Create timeless makeup looks, add shimmer, and let others go gaga over your mesmerizing eyes. 
When choosing cosmetic products, especially pencil eyeliner that is applied close to your eyes, no one wants to compromise health and skin. Ensuring you buy top-notch quality with the finest ingredients can make a lot of difference. Going for low-quality eye pencils can cause burning eyes and even affect your eyesight. Viseart Official India understands your concerns and brings you the super stay smudge proof eyeliner pencil you can use to glam up daily. Along with eye pencils, you get access to an uncompromised range of makeup products for everyday use. Get glam and spread your charm with Viseart.
0 comments